The True Story Bunny Mellon's Extraordinary Collections and the Legendary Auction of the Decade
Author Meryl Gordon chronicles the life of the society icon in her new book Bunny Mellon: The Life of an American Style Legend.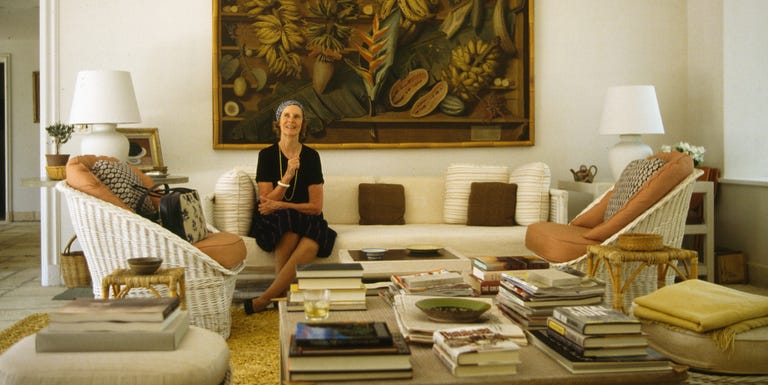 JOSHUA GREENE. © 2017 JOSHUA GREENE, WWW.ARCHIVEIMAGES.COM
Rachel Lowe Lambert Lloyd Mellon, nicknamed Bunny by her childhood nurse, died early Monday morning, March 17, 2014, at her snow-dusted estate, Oak Spring Farm, in Upperville, Virginia. Cogent until the end, the 103-year-old widow had conducted farewell phone conversations with friends during her final weekend. "We talked two days before she died," Hubert de Givenchy, the French fashion designer, told me. "About flowers, about a book, about the nice time we had on a boat trip."
During the final 24-hour bedside vigil at her home, Bunny bestowed a frail but loving smile on her irrepressible six-year-old great-granddaughter, Fiona Lloyd, who came skipping into Bunny's bedroom, bearing a bouquet of just-picked crocuses. Shortly thereafter, when informed of the family matriarch's death, Fiona solemnly pronounced, "She heavened."
For Caroline Kennedy, who had been a baby when Bunny befriended her mother Jackie Kennedy, the news marked the end of a powerful emotional connection. "I can't imagine the world without Bunny," Caroline wrote in the days shortly after the death.
"She and Mummy were the best of friends and it was a friendship that nurtured and sustained them both through the hardest times. They were like a pair of twins with their own special language, their own love of mischief, and their own special combination of respect for tradition masking a complete disregard for convention."
In November 2014, Bunny Mellon's possessions were auctioned off at Sotheby'swith the proceeds benefitting the botanical library foundation named after her father, Gerard B. Lambert. The sale received glowing media coverage as magazine and newspaper articles stressed two themes: her exquisite taste and how much she abhorred attention.
A consummate shopper with a discerning eye and an unlimited budget, Bunny had taken great pleasure in furnishing her homes in Virginia, Manhattan, Washington, Paris, Antigua, Cape Cod and Nantucket. To glide up the escalators at Sotheby's was visually overwhelming, due to the vast quantities of objects: dozens of antique porcelain tureens and serving dishes shaped like cabbages, cauliflowers, sunflowers, pineapples and asparagus, silver candlesticks, gold and lapis snuff boxes, Aubusson and English needlepoint carpets, a Louis XVI writing table, an eighteenth-century Regency chest, and black lacquered chairs with gold chinoiserie.
When Bunny's grandson Thomas Lloyd and his wife, Rickie Niceta, arrived at Sotheby's and saw the vast display cases filled with diamond, emerald and ruby jewelry, Rickie burst into tears. It wasn't grief that caused her reaction but rather, an insight into Bunny's psyche. "There was case after case, forty Rolex watches, bracelets, purses, rings," explains Rickie. "I felt like there had been a true hole in her heart, and she was desperate to fill it. She tried to fill the void by buying all that stuff. It made me so sad."
She tried to fill the void by buying all that stuff. It made me so sad.
There had been a compulsive quality to her shopping. "I think Mrs. Mellon could not go to bed in the evening if she hadn't bought something during the day," says Akko van Acker, a Paris antiques dealer who had been Bunny's confidant.
For Bunny's family members, friends and former employees, the sale evoked a kaleidoscope of images. She could be down-to-earth and funny, regal and icy, extremely thoughtful and heroically stoic, breezily dismissive and willfully oblivious. She used her money as a reward and a weapon. Flipping the Oscar Wilde quip, she knew the value of everything and the price of nothing.
Vogue fashion editor Babs Simpson, one of Bunny's closest friends dating back to the 1950s, says, "I think that if Bunny had been born poor, she would have done something quite important, in decorating or designing, because she had innate talent and imagination." Yet Bunny had a habit of dropping people without explanation, and after a half century of friendship, one day she dropped Babs. "I never felt badly about it, because that's the way she was," Simpson says.
There were many stories attached to Bunny's possessions, tales that reflected her rocky relationship with her husband, Paul Mellon. Bunny's longtime decorator, Paul Leonard, who died of cancer in 2002, wrote in an outline for a memoir seeing "Paul's verbal abuse, especially after he had a few Martinis. Bunny's last resort was her female instinct to cry, or to try not to cry. I recall the door to the kitchen opening, with the butler David appearing holding a silver tray with a stack of Kleenex!" Now four of these silver trays were for sale, with presale estimates of up to $10,000.
For Louise Whitney Mellon, who had been married to Paul Mellon's son, Timothy, the porcelain cabbages brought back memories. Tim Mellon had been five years old when his widowed father married Bunny in 1948, and he did not always get along with his stepmother. "Bunny had given Tim a version of the cabbage," Louise recalled. "We were at his house in Guilford, and he took it out and smashed it on the rocks." Yet Bunny had the last word—she left Tim only one possession in her will, another porcelain cabbage.
The sale of Bunny's possessions at Sotheby's brought in $218 million, double the auction house's original estimate. Yet even as employees prepared to ship her possessions to the far corners of the globe, there was a poignant undertone. The auction had made Bunny Mellon famous again. But these possessions merely evoked tantalizing elements of her history, silent household props that had witnessed the drama of a remarkable twentieth-century life. There was so much more to tell.