PANTONE JUST RELEASED THEIR FALL 2018 COLOR TREND REPORT
And its full of bright and bold hues.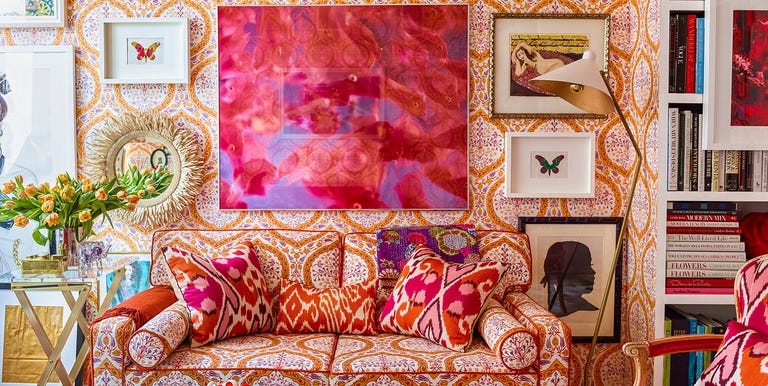 Fashion week, the sartorial check-in that takes over New York twice a year — or four times if you count Resort and Pre-Fall — serves to introduce the reigning trend forecast for the year ahead, from silhouettes to new faces. Though ostensibly about clothing, it influences every sphere of design. And when it comes to color trends to watch, no one runway show can touch the benchmark reports released each fashion week by the color authority Pantone.
Pantone, which earlier this year announced Ultraviolet as the color of 2018, has analyzed emerging trends and assembled an authoritative list of chic new hues to watch as we approach Fall '18. Spoiler alert: they are all majorly fab, and decidedly outspoken. Leatrice Eiseman, Executive Director of the Pantone Color Institute, notes, "As designers and consumers alike continue to transition away from cyclical trends, and instead focus on self-expressive colors that evade antiquated seasonal structure, we are seeing very notable non-traditional choices."
Below, Pantone's avant-garde picks for Fall 2018, which an Institute press release categorize as, "Autumnal hues that evoke the feeling of leaves on the forest floor, rich plumage and twilight reveal a modern fall palette of deep and rich tones with outbursts of colorful surprise."
1
PANTONE 16-1255 RUSSET ORANGE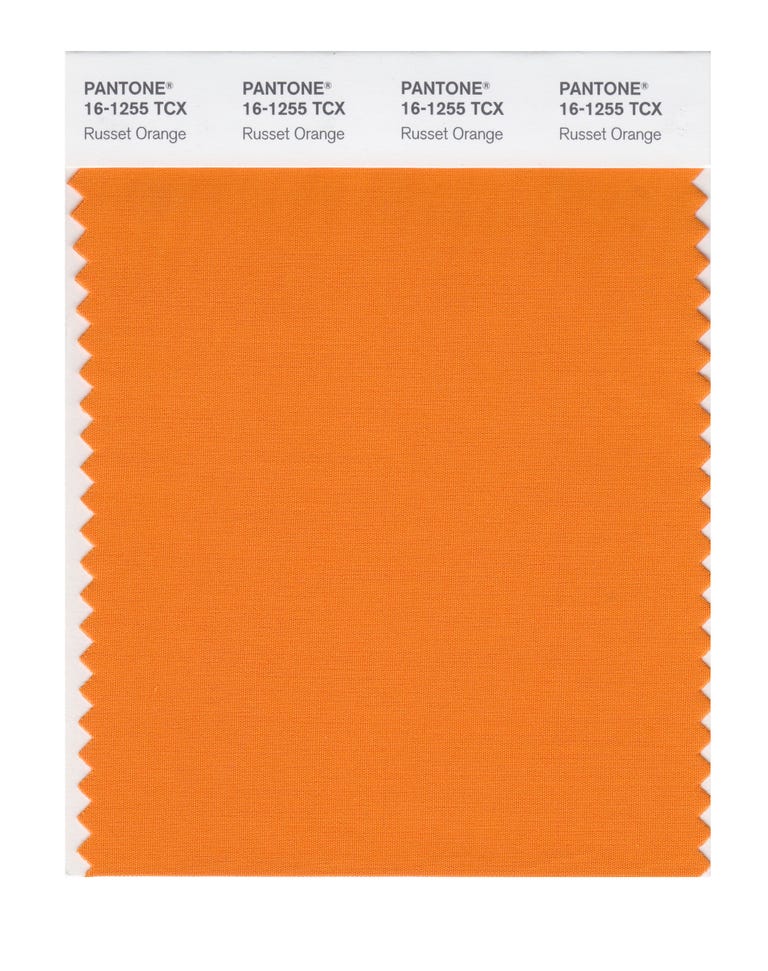 A beautiful orange, slightly more red than yellow, Russet Orange seems primed to take over as the new bold organic du jour — Pantone links it to nature and foliage, noting, "This forest floor orange speaks to earthen warmth."
2
PANTONE 15-3520 CROCUS PETAL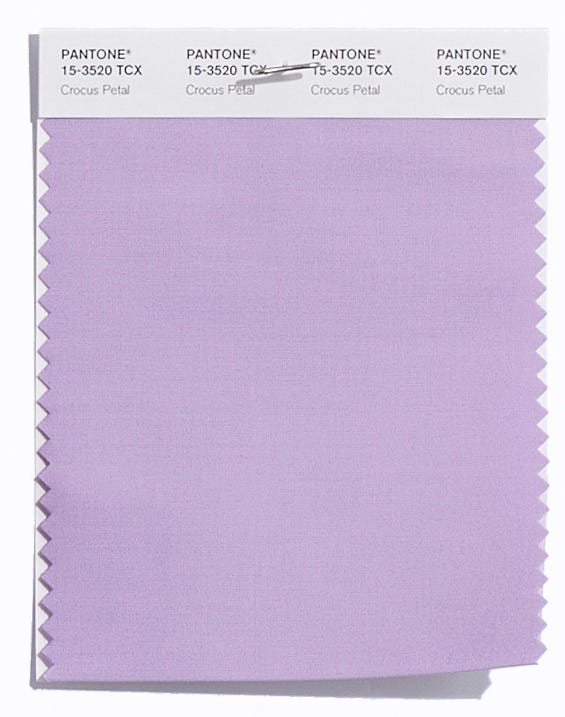 A delicate, energetic floral shade, Crocus Petal feels like the sweet, barely subdued understudy to Ultraviolet. Pantone calls it, "A cultivated and refined hue [that] adds a light and airy spring-like feeling."
3
PANTONE 18-1549 VALIANT POPPY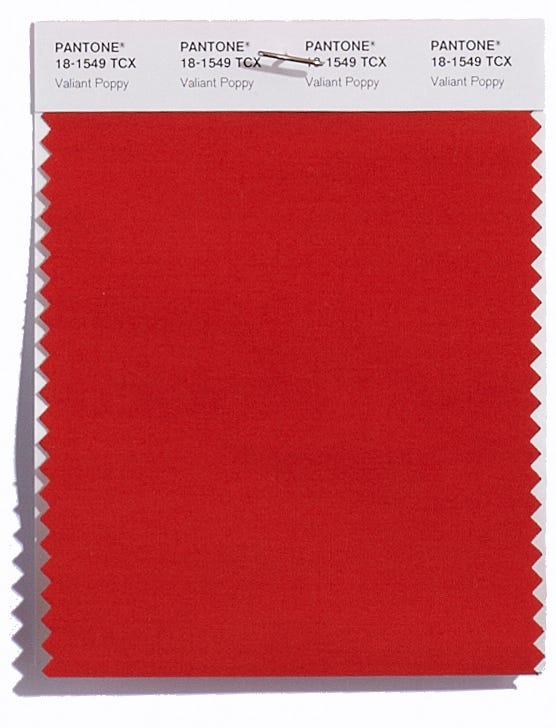 A rich jewel-tone straight off of the classic autumnal palette, Valiant Poppy is a, "brave and outgoing red shade effusive in its allure," according to Pantone.
4
PANTONE 18-3838 ULTRA VIOLET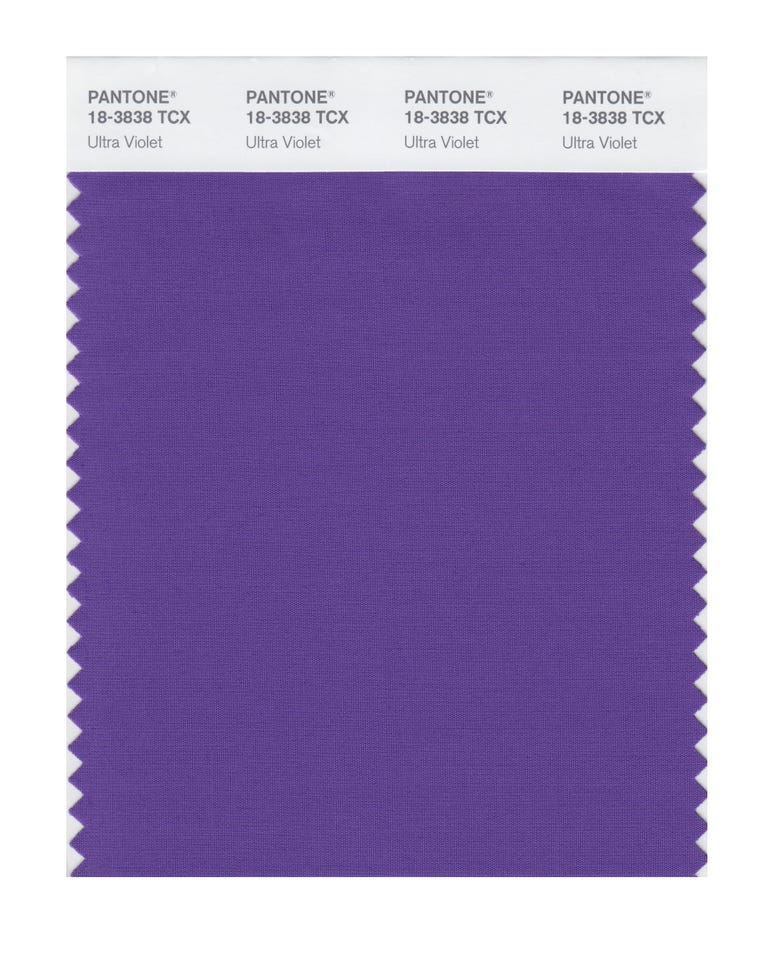 This year's Color of the Year pick, Ultraviolet is a vibrant, spiritual purple grounded by deep blue undertones. "Inventive and imaginative Ultra Violet lights the way for what is yet to come," says Pantone.
5
PANTONE 15-0850 CEYLON YELLOW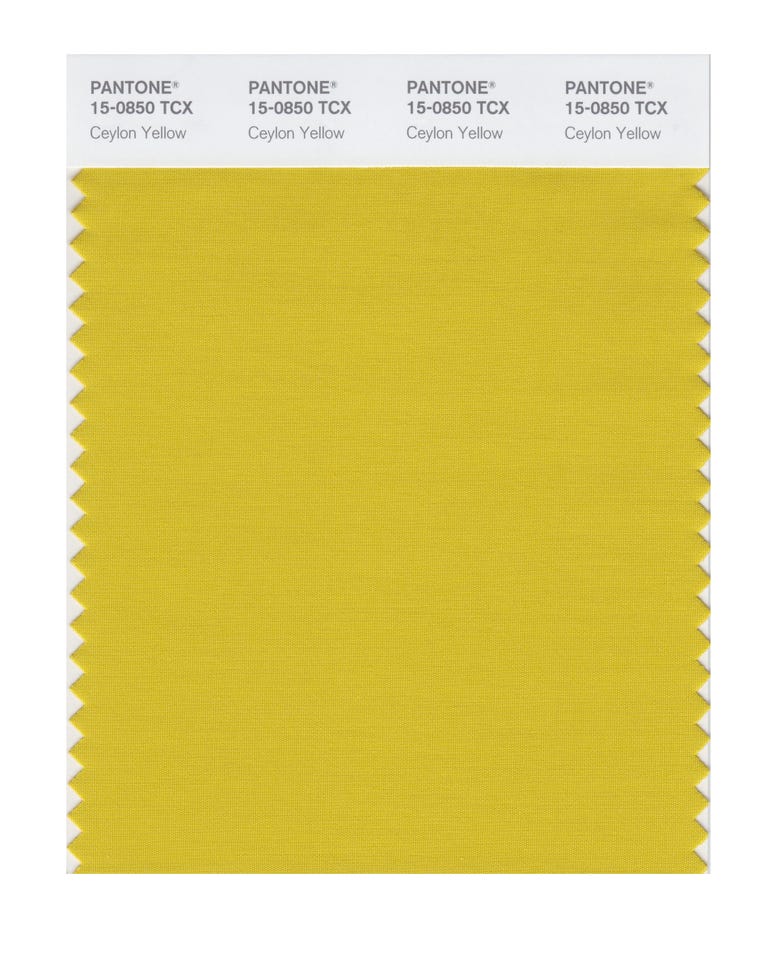 A rich silky hue that sits somewhere between the true yellow of gold and the greenish undertones of brass, Ceylon Yellow is described as a, "savory and spicy yellow [that] adds an exotic touch."
6
PANTONE 18-0625 MARTINI OLIVE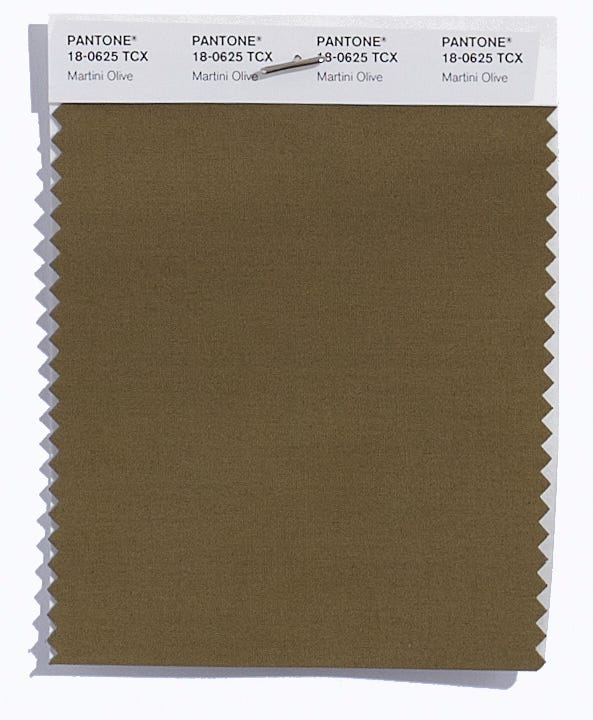 An understated outlier among this season's bold picks, Martini Olive is a, "smooth, sophisticated and urbane green," that, "adds depth to the Fall/Winter 2018 palette."
7
PANTONE 18-4048 NEBULAS BLUE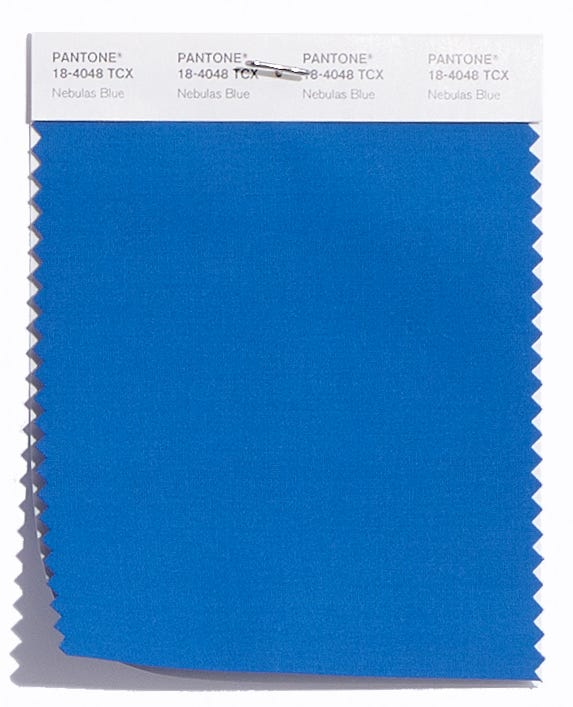 Nebulas Blue is an electric, celestial shade, which Pantone describes as, "reminiscent of twilight," and "a thoughtful, starry-eyed blue."
8
PANTONE 12-0740 LIMELIGHT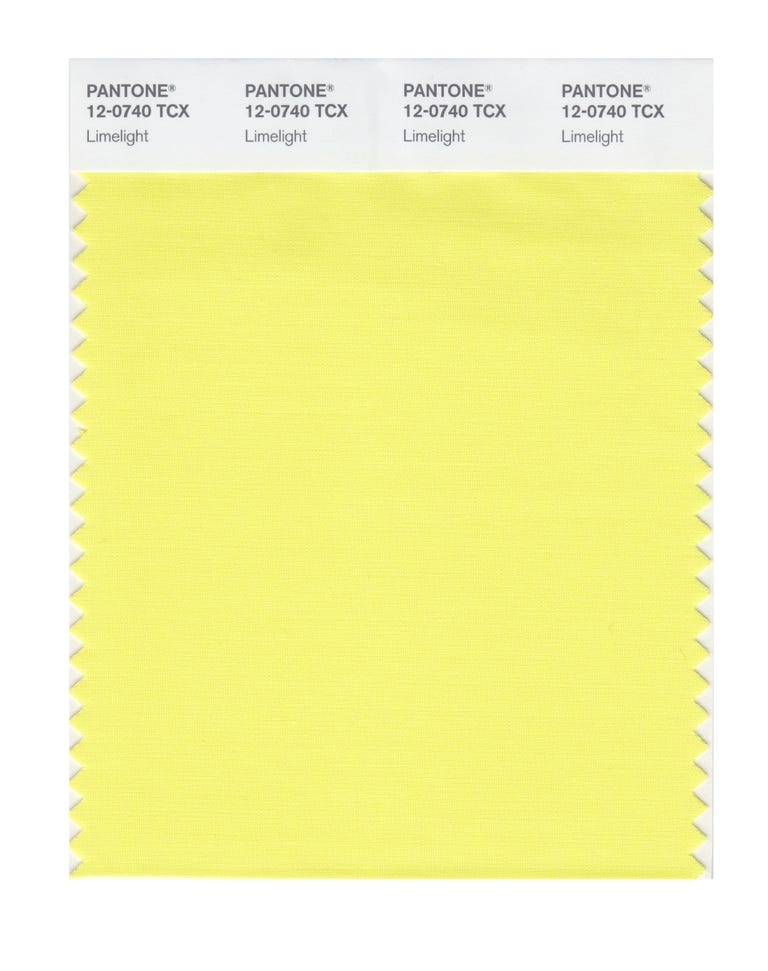 For a yellow with plenty of bite, the tart and sprightly Limelight hits the spot. "Animated and effervescent," Pantone explains that this, "pungent yellow-green becomes the center of attention."
9
PANTONE 18-5025 QUETZAL GREEN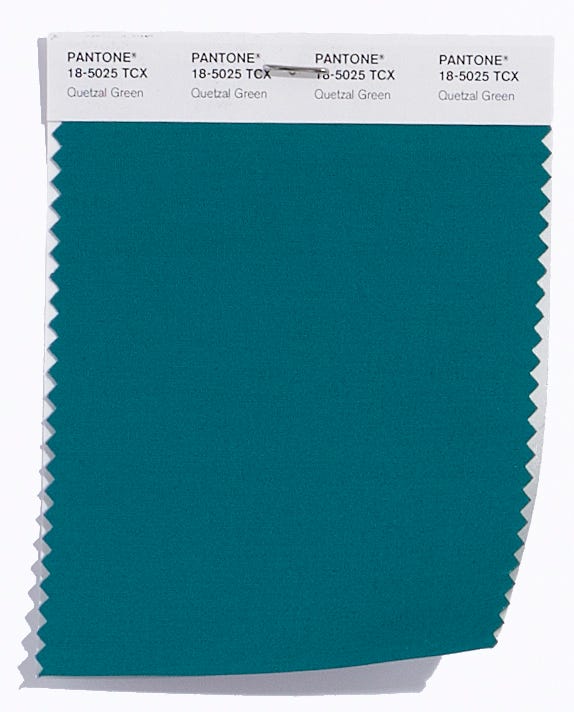 A mellow teal as evocative as the eponymous Central American bird, Pantone calls Quetzal Green, "A deep elegant blue-green hue suggestive of rich plumage.
10PANTONE 19-1536 RED PEAR